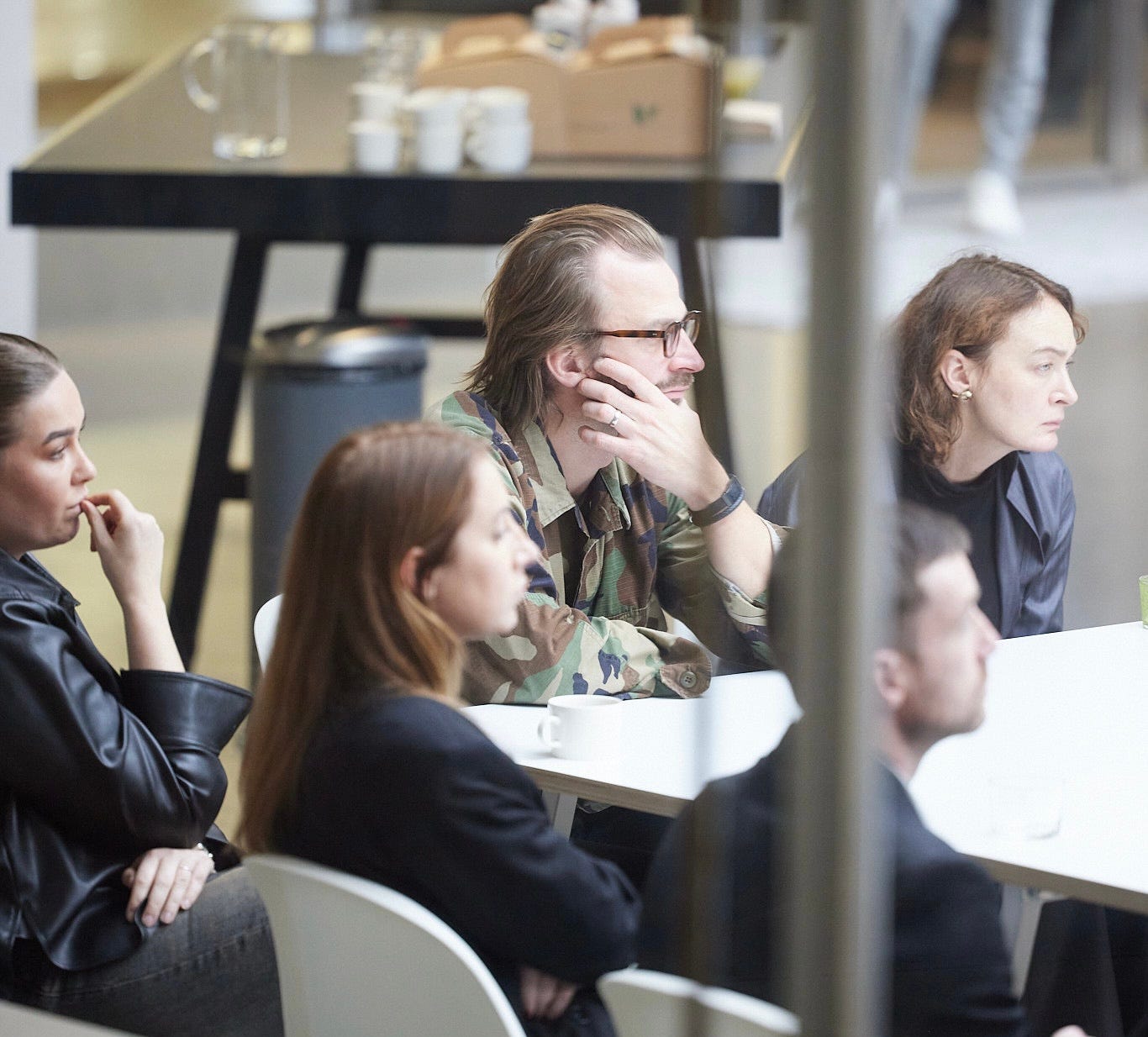 Last week began with doing my biannual lectures at Berghs School of Communication on Monday morning. As always, it was incredibly inspiring hearing from another batch of hungry young minds, on the cusp of their careers in media and communication. And as per usual, it's always something new that comes out of the workshop sessions, talking about how to get their projects off the ground and establishing themselves as valuable operatives in the media industry.
During the brainstorming and strategizing, it became clearer than ever that their best bet for getting traction for themselves was through collaboration. If you have no platform, piggybacking on another's is much faster than building your own. One could argue that the actual way to build your own platform is to find collaborations with companies and personalities – both known and unknown, from micro influencers to macro celebrities – that can share your story with their audiences.
If you are young, you sitting on a trump card. Everybody wants to help the new guard, the up-and-coming talent. The world is obsessed with the next generation. Capture them, and you will find customers for life.
The day after I found myself at the Polestar showroom in central Stockholm, participating in a round table discussion during FASHION X, the alternative "fashion week" from Swedish Fashion Council.
People from all walks of the fashion ecosystem – from brands and designers to tech companies, supply chain experts, diversity researchers, and management consultants – was discussing the need for transformation in the industry.
A few notes:
Achim Berg from McKinsey & Co, which soon will be publishing their eighth edition of The State of Fashion Report together with Business of Fashion underscored the uncertainty of the market place going forward. "About a third of the respondents were positive about the future, a third was negative, and a third said that they didn't now. Which tells me that no one knows what's going to happen."
Chloé Mukai, Senior Programme Officer at the Ethical Fashion Initiative, was taking about the need for a cohesive sustainability reporting globally. If we can't come together on a standardized way of reporting, there is now way to measure the industry and move forward. (More from Chloé in the podcast, link below).
Jennie Nilsson from Swedish tech giant Ericsson talked about the opportunities of 5G networks for creating more transparency in the supply chain. She seemed eager to collaborate with tech companies that could enable more data sharing in the fashion industry. Perhaps they will play a role in the roll-out of Digital Product Passports in the years to come?
Suzan Hourieh Lindberg, founder of research firm Perspetivo, talked about the need for diversity in the fashion industry, especially for enabling change. "There is a higher density of innovation with more diverse teams", she said, making me even more curious about the new report they are releasing together with Fashion Council on the topic.
The moderator for the talk, Swedish Fashion Council's Head of strategy Agnes Åberg, did not have an easy task navigating the diverse group of speakers. At first, I thought the disparate point of views was a bit unconstructive (the mandatory input from the sponsor Polestar could have been reformatted as sponsored content), but in hindsight I feel like this is exactly what is needed. A clash of perspectives from brand owners, tech people, manufacturers, and beyond. How are we supposed to create lasting change, if these disparate personalities and competences aren't able to collaborate with each other?
This was exactly the perspective of Nora Bavey, our former cover star (order issue 3 here) and the founder of VC firm Unconventional Ventures. She was present to reveal she had three investment in fashion-tech companies in the can, and more coming. But Nora being Nora, she also had some electrifying comments on what is missing in the industry.
"The eco system doesn't talk to each other the way we need to", she exclaimed.
Just like for my students at Bergs School of Communication,  what is most needed in the fashion indsutry to bring about accelerating transformation, is collaboration.
Notes and events:
The second installment of Beauty Innovation Talks in Stockholm happens next week, November 22. Sign up here.
Our first Virtual Creatives Live at the Lynk & Co showroom was a great success. Listen to my live talk with Katarina Håkansson on the pod on Friday. Next edition is December 6. Save this date!
Also: a huge shout out to our editor Erik Sedin, who's moved on the greener pastures (or so he thinks). Erik has been a steadfast content producer helping out with copywriting, podcast editing, photography, and much more. I'm not surprised that the market is rewarding his many skills. Thanks for everything, Erik!
I held a talk on "How to build a storytelling brand" for J.Lindeberg last week. If you are interested in me doing that keynote for your conference, e-mail me and we'll set something up: konrad@scandinavianmind.com
See you next week!