The artisan: Jens is a London-based fashion designer and creative consultant with over 30 years of experience in the international fashion industry, or as he sees himself, "a hybrid European Danish fashion designer." After getting fashion degrees at both Institut Français de la Mode in Paris and Central Saint Martins in London, he also started his own fashion brand.
— I live in East London, and London has been my creative home since 2000. The pandemic introspection gave me a renewed focus on my creative path and inspired the recent transition of my creative craft to the digital arena, trying to explore how digital fashion can also be used as a powerful design iteration tool.
Jens was taught at traditional fashion schools in the 90s and built his expertise on physical creation, but for the last couple of years, he has sat at the helm of design and tech advisory collective KONSENS X, where he gathers international digital artist talents to launch digital fashion shows and collections. Most recently, at London Fashion Week SS23, he presented the digital fashion show METASENS TRILOGY.
The platform: The entrance into digital worlds in general and the metaverse specifically has allowed Jens to find a new meaning to his brand and creative process.
— I love collaborating with creatives in different fields of web3 technologies and tech engineers. It is the same for re- launching the new Laugesen brand into the metaverse; I have rediscovered my love for science in the world of blockchain and web3 metaverse networking, which also leads me to CV investors interested in new emerging fashion tech brand opportunities. With the metaverse, my creative brand has become more three-dimensional and complete.
Is there a future in digital fashion?
— Until recently, digital fashion was mainly helping to organise the production side of the fashion industry through the 3D programme CLO3D, which was born out of the gaming industry. I think digital fashion is exciting and maybe one of the most obvious ways for the consumer to understand the link between the gaming industry, web3, and the consumer. A garment can be needed in all three worlds.
The toolbox: Jens has made a definite choice to not learn any of the digital software that his creation needs. He leaves that to his virtual designers, who he directs and manages with the help of his fashion experience.
— Today I still haven't mastered either Photoshop or CLO3D — but it's a deliberate choice as It takes so much time to master all possible tricks of digital software. I embrace technology as an essential tool in my design practice, but I can direct other people's craft in a very collaborative manner anyways, he says, adding:
— With the expansion of CLO3D, we have seen a new generation of young creative designers learning digital design alongside physical pattern cutting. It's a lot of technical learning, which is a significant step forward. Still, I also feel the current design tools could learn more from the craft of advanced designers and artisan craft development processes.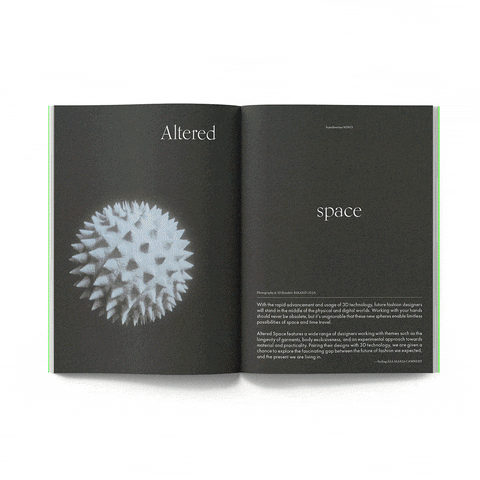 Order your copy of issue 4 now. International orders are available via Papercut.