The artisan: Katarina Håkansson has four decades worth of experience in the beauty industry, boasting makeup gigs for some of the world's biggest fashion photographers and luxury houses from the early 90s and onwards. Since the turn of this decade, however, her makeup station is neatly packed away to give way to her computer, where Katarina explores beauty in virtual worlds with the MetaHuman Cre- ator from Epic Games.
— I previously worked around the globe as a top makeup artist. I founded my own beauty brand and have worked as a creative beauty lead based in Paris and New York. But the older I get the more I realise how little I know and how much I want o learn; I've studied artificial intelligence at Uppsala University and Immersive Technologies at Blekinge Institute of Technology, and I am an immersive experience student at Futuregames in Stockholm, specialising in XR, AR, and VR.
What is the future of beauty tech?
— With my background in the beauty sector, my passion lies in the development and research around avatars. I believe everyone will have one or several avatar options, depending on individual moods and occasions in the future. I find the possibility of our identity becoming more fluid and inclusive — regarding gender, race, background, age, size, and so forth — very compelling. It can hopefully help increase acceptance in a positive way in real life.
The platform: Even though Katarina spends most of her time in virtual reality settings, she still gathers inspiration and shares her own work through household social media like Discord, LinkedIn, and Instagram. Since her first experimentations with the MetaHuman Creator in 2021, Katarina's Instagram followers surged.
— I naturally keep my eyes and ears out for all beauty and avatar-related matters on all platforms. The NFT markets are inspirational since there are so many talented creative people showing their work, she says, adding:
— The big beauty brands are already looking at opportunities in the metaverse and finding their place in it by collaborating with tech companies. L'Oréal has recently teamed up with the avatars from Ready Player Me for instance. I recently met an avatar in the form of a purple ball of threads with eyes in a VR chatroom and became curious about who was behind this creation. It turned out we had a lot in common.
"I recently met an avatar in the form of a purple ball of threads with eyes in a VR chatroom. It turned out we had a lot in common."
The toolbox: Since her first stumbling steps with Unreal Engine, Katarina is still looking for more.
— I am currently a bit of a generalist, in the process of carving out my own personal workflow and identifying the tools I feel comfortable with. So far, I have been learning about real-time game engines like Unreal Engine but also Maya from Autodesk for 3D modelling and the Adobe suite. They all have steep learning curves. I recently found exciting XR tools that are very intuitive and user-friendly within VR and played around with stable diffusion using machine learning and artificial intelligence, which gives fascinating results. I am still searching.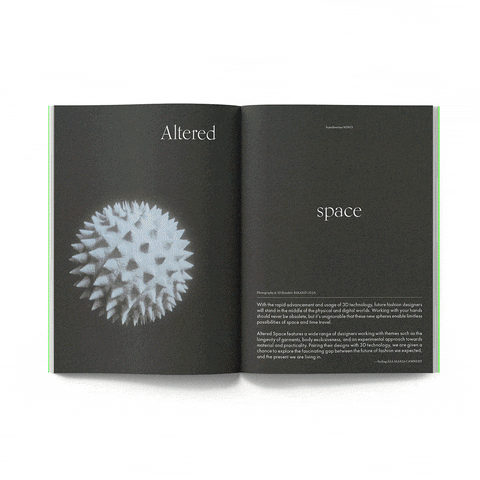 Order your copy of issue 4 now. International orders are available via Papercut.