The artisan: Andreas Wannerstedt is a 41-year-old Stockholm-based 3D artist and art director who crafts 3D sculptures and looping animations. Brands such as Google, Gucci, Lamborghini, Spotify, COS, Audi, Omega, and Swarovski have all used Wannerstedt's oddly satisfying art, which instantly reels you in and stops you in your tracks. The geometric and clockwork-like loops mixed with trippy law-bend- ing physics offer some well-needed pauses amidst endless scrolling.
— Basic maths goes a long way, both when creating geometrical shapes and repetitive movement patterns. As an artist, I always try to anchor my work in reality and take inspiration from nature. However, thanks to the digital medium, I'm able to break the boundaries of physical laws and ignore real-world behaviours such as friction and gravity, if needed.
The platform: Andreas started posting his 'oddly satisfying' loops in 2016 and has racked up close to 800,000 followers today. Most of his clients, Andreas explains, reach out to him after one of his artworks has done the rounds as a viral reel.
— Instagram has opened a lot of doors, for sure. Nowadays, thanks to the NFT movement, a lot of artists have moved from Instagram to Twitter and Discord, and there are several good 3D art communities out there, although I myself am not very active these days. Interacting with other artists on Twitter is usually a good start if you're trying to find good art communities, though.
On the subject of NFTs. Where does it go from here?
— I think NFTs as a format is very interesting, and I think it's definitely here to stay. However, I'm glad that the initial hype has now settled and that people are starting to realise that 99% of all projects that were rushed to the market won't have much value in the future. Unfortunately, there has been far too much focus on money and numbers, which has taken away much of what was initially exciting and given the whole NFT scene a bad aftertaste.
The toolbox: Before opening up the essential 3D software, Andreas first jots down ideas and patterns in his sketchbook. Once he perceives a looped pattern or movement from the rough sketches, he then tests them out digitally.
—I use Cinema 4D for all of my 3D work and Arnold or Redshift for rendering. I often prefer to animate things by hand using keyframes, instead of using simulations where the computer calculates the movements. That makes everything much easier to direct since I'm in full control of the motion. Control is a must since most of my animations require perfect timing in order to work.
Have you been looking at AI as a tool to help your creative process?
— As a creator, I think it's important to not be scared by this movement but rather embrace all the powerful tools that will come within the next couple of years. I'm looking forward to AI tools that can create 3D models based on user prompts, so I can spend more time on directing and animating rather than modelling. I think we will definitely see more of this, and that this will be very helpful in my own creative process as well as a bit further ahead.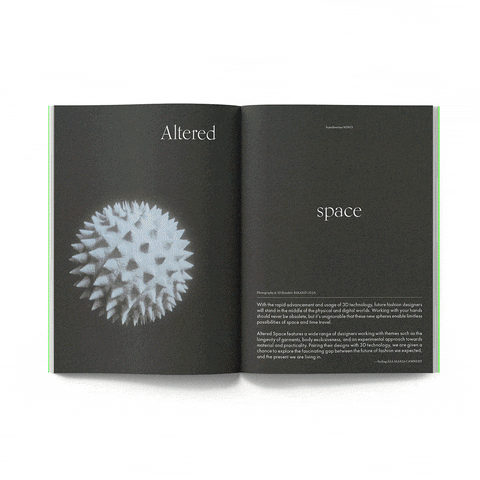 Order your copy of issue 4 now. International orders are available via Papercut.