The artisan: Yilmaz Sen is a 34-year-old self-taught 3D fashion animator and director. Originally from Istanbul, Turkey, he has been living in Copenhagen since 2018. While studying product design he randomly stumbled upon 3D animation, and being a DJ at the time, he furthered his interest in animation by making live visuals for concerts and events.
— I never really intended for it to go anywhere, I had some dreams or thoughts on it but I didn't know where it could take me. I made some videos that went viral on Instagram, and then after some time, Balenciaga contacted me to do a campaign for them. And that's basically how I got into fashion.
The platform: Having himself as his only colleague, Yilmaz is mostly working with open-minded brands and commercial projects as well as his own personal projects, exploring new techniques and ways of visual expression. He has had the privilege of working with some big fashion names such as Balenciaga, Nike, and Zalando, both directing and animating a few of their campaigns. He showcases his work on his website and on his Instagram page.
— I don't think every brand is open-minded, but some brands have something in their DNA that allows me to play around. There are some big clients out there that aren't afraid of being a bit goofy, weird, or edgy.
What has influenced you to create digital creations rather than physical ones?
— I was always slightly better than my friends at drawing, and to be honest, I suck at every other thing in my life. I was drawn into working with computers mainly because computers allowed me to create, and they surprised me. If I'm drawing something, I'm 100% in control whereas by using a computer, I could create a real image that I would not be able to create by doing a painting, Yilmaz says, emphasising:
— It's like you have a limited creativity but with a computer, you can multiply that by ten. The tool is very powerful when it comes to being capable of creating visually or artistically. But of course, it has a drawback in that it is hard to learn, and if you're not having fun while learning it, it's really hard to get into for a lot of people.
The toolbox: The main tool he uses is Cinema 4D, where he makes most of his 3D animations and compositions. Moreover, he uses 3D animation tools, 3D sculpting tools, compositing, and recently started using some AI tools as well.
To upscale videos, which is a big part of Yilmaz's work, he uses a technique called motion capture. This is where you get 3D skeletal data of a person who is moving. Yilmaz explains that this used to be done in motion capture studios, but that now you can shoot a video of a person moving and then upload it to the cloud; and it uses an AI technique to convert that video into motion capture data and sound.
You also dabbled with NFTs for a while. What did you learn?
— In the beginning, it seemed like every digital artist's wet dream. It had a great appeal to me, but then it just died off for me. I feel as an artist I should spend most of my time creating art, not networking, being friends with the right people and so on. I just noticed that space had these weird dynamics, especially on Twitter.
— In one way I think it's some sort of Ponzi scheme almost, it might be irresponsible for me to think that way, but I don't care. If people want to buy my work go ahead and buy it, people have to do their own research and they should know what they're spending their money on.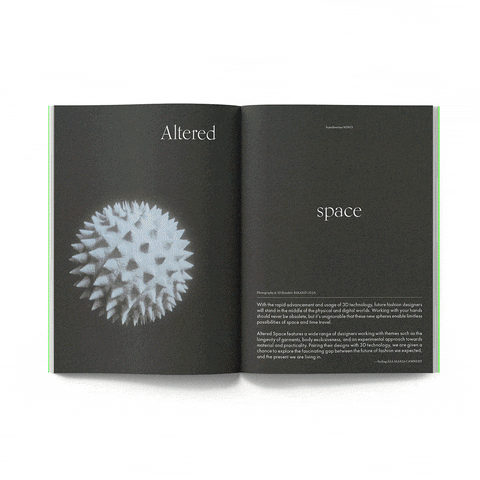 Order your copy of issue 4 now. International orders are available via Papercut.